Pros:
lean, no fat, easy to eat, great flavour throughout, quality meat
Cons:
bit more expensive then other brands, bit more heat could be good
Bigwig Jerky Company are a Brisbane based jerky business specialising in a range of handcrafted, preservative free craft jerky.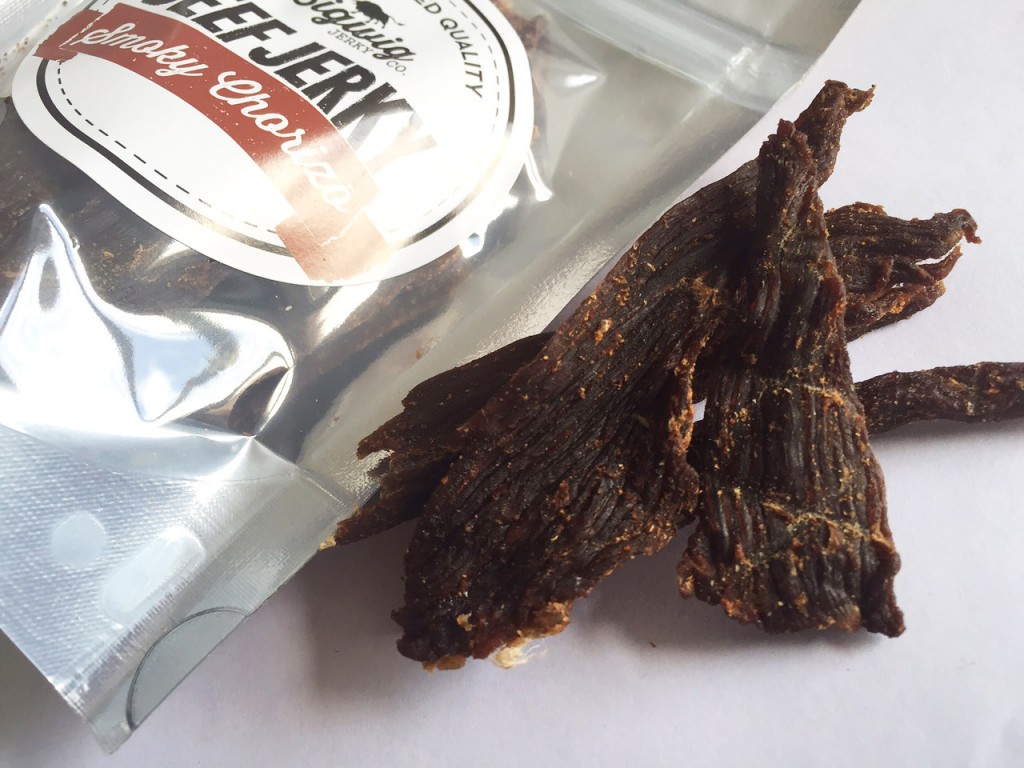 This review is of a 40 gram pack of the Smoky Chorizo Beef Jerky. All Bigwig Jerky is preservative free and uses quality beef sliced thin with the grain to form a rip & tear type jerky making it easy to strip a piece off with minimal chewing.
Ingredients
Beef, soy sauce, vinegar, brown sugar, salt, pepper, spices.
Appearance
The majority of the pieces were flat and wide, with the grain very visible as seen in the pics. There were no signs of any fat or undesirables just nice lean beef. There are no visual signs of flavouring and the jerky has an overall dark brown/reddish colour to it. Most of the pieces had been chopped or broken into smaller pieces, most likely to fit into the small packaging.
Taste
There was quite a bold, strong yet pleasant flavour to this jerky. Upon first bite I was greeted with a mellow smoky taste which got stronger with continued chewing. A slight hint of heat became present but not for long, and definitely not enough to register on the "heat scale". I am guessing a smoky paprika or similar spice is a major ingredient in this recipe. Overall this jerky was very enjoyable to eat and like most smoky type meats it would go great at a BBQ or anywhere with beer.
Meat Consistency
Being a rather thin jerky, it was very easy to rip and chew. It had a slight softness to it but more on the dry side of things. Very lean with no signs of fat or nasty bits and all pieces were of consistent thickness and size. The 40g pack had about 8 to 10 pieces in lengths of 5cm or there abouts.
Value
At $6.60 for 40g, this product is on par with most other handcrafted/artisan jerky available on the market, and considering the time spent producing it, it is good value.
Overall
Very enjoyable jerky to just sit back and enjoy, not hot, not sweet, just a nice mellow smoky bbq flavour with a ever so slight touch of zing to bring out that chorizo type flavour. Would eat again.
For more information about Bigwig Jerky Company click here