Pros:
no artificial colours or flavours, premium angus beef
Cons:
lack of chilli heat, flavour a bit bland, mold
Wild Bull Jerky is a product of Sydney Meats. Their jerky is made daily using Premium Black Angus lean beef direct from their farms. Wild Bull beef jerky contains no artificial flavourings, no msg, no preservatives, is low fat and 70% protein.
The first review is of a sample piece of Hot Chilli flavour. The sample was purchased from Wild Bull Jerky via their eBay store approx. 2 months prior to doing the review.
Ingredients
Beef, salt, herbs and spices, onion powder, garlic powder, soy sauce.
Appearance
Wild Bull Jerky looks how jerky should look. You instantly can tell the product is made from quality full muscle meat. The pieces are a decent size and cut nicely with the grain. There are no visual signs of chilli flavouring and the sample looks very similar to other flavours, the only way to distinguish between flavours would be by the name on the packet. There was only a small element of fat present but unfortunately mold had started to develop on a secondary piece of the jerky sample. I shall contact Wild Bull Jerky to find out the expected use by period of their jerky.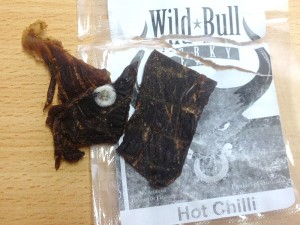 Taste
Unfortunately as half of the sample was spoilt with mold, I was only left with one small piece to taste test. Firstly it wasn't very "hot" and what chilli heat there was soon disappeared after a few seconds. I feel the overall flavour was lacking and somewhat bland. After a few chews the flavour was released but like mentioned earlier it was gone as quick as it came. Maybe I just need a bigger sample to test.
Meat Consistency
A dry jerky, cut nicely with the grain allowed for easy eating. The jerky was an even thickness and therefore maintained the same amount of consistency across the whole piece. The meat was well presented and care looked to be taken when preparing the meat of any fat content. One piece did have a decent sized section of fat on it which may have attributed to the mold developing (jerky had been kept sealed and in an airconditioned dark environment since receiving it)
Value
$26 for 250g / $89 a kg is on par with most jerky available in Australia. There is no mention whether the beef is grass fed, however as the beef is premium lean Angus I consider the cost per 100g to be pretty good.
Overall
Wild Bull Jerky Hot Chilli unfortunately lacks in chilli heat, but has a good meat consistency. I would have liked to see more visual flavouring, ie chilli flakes. I will revisit this product again with a large sample size and review again in the near future.
For more information about Wild Bull Jerky click here
Nutritional Information:
Per 100g
Energy 1360 kj
Protien 52.2g
Fat total 9.9g
Fat saturated 3.9g
Carbs 6.2g
Sugars 2.4g
Sodium 1600mg